Director's Statement
There has never been a better time to rethink our relationship to our shorelines. We are seeing one of the greatest migrations of all times towards coastal cities at precisely the moment we should consider retreat. 70% of the world's coastlines are vulnerable to sea level rise.
The surge of coastal tourism, the increased dumping of industrial waste, and development projects in wetlands are threatening the very ecosystems that protect us from flooding. This is exacerbated by the impacts of climate change with rising seas, higher temperatures, and violent storms. What can we learn from those living on the coast, the frontline of environmental change?
The Shore Line profiles the efforts of educators, artists, architects, scientists, city planners, and youth organizations from nine countries who are confronting coastal challenges with persistence and imagination. By featuring stories of resilience from shoreline communities around the world, we hope to inspire diverse ways of responding to our changing environment.
The Shore Line: A Guide for Educators
Find inspiration in The Shore Line videos about people from nine countries who are addressing environmental, economic and social problems. Use our strategy tool kits and workshop cards to help students discover ways to get involved in their own communities. Through videos, visualizations and soundscapes, students can see how communities and the environment are inter-connected, and how they might contribute to a more just and sustainable future. This interactive storybook is designed for high-school to university-level students.
Features
There are three ways to navigate our Shore Line storybook: Chapters, Atlas, or Database.
CHAPTERS

Rising Waters / An Endangered Ocean / Currents of Migration / Manufactured Coasts/ Stormy Skies / Living Shorelines

Each chapter features a unique soundscape, videos, sea level sliders, a floodview, and links to our strategy toolkits.

Sea level slider Each video features a link to a map with a sea level slider that visualizes what six meters of sea level rise would look like in that area.

Flood views At the end of each chapter there is a flooded street view of one of six major port cities, cited as those "most at risk" by the Organization for Economic Cooperation and Development (OECD). Use the flood views to discuss how to sustain attention on sea level rise, an environmental issue that is often hard to grasp.

ATLAS

With our Atlas you can explore the 43 videos by location and visualize threats to ecosystems around the world. Discuss how data and cartography can help us plan for the future and connect communities or alternatively be used to reinforce power relations.

Data visualization Toggle between datasets of coastal density, wetland and mangrove coverage to consider the impacts of development on the environment.

Shore Line Paths The faces on the map represent users, their location, and what videos they have watched. You can see how your video path intersects with others from around the world.

DATABASE

Our database features 43 videos by strategy, people (occupation), country, and threat so that educators can tailor their selection to their curriculum needs.

Strategy Toolkit We have curated a set of questions, activities and additional resources based on 13 inter-disciplinary strategies of taking action.

Workshops In collaboration with engaged scholars and experts, we have developed workshop cards. Youth Leadership, Environmental Journalism, Water, Activism, and other cards are available for download in the database area.

Language We have translated many of the videos into French and Spanish indicated by the CC (chose captions) in the lower right of each video.
Modes of Learning
Solution based learning: Use the solution-based stories as a catalyst to identify local problems and to consider diverse strategies of getting involved through education, environmental law, art, ecology, policy, activism and more.

Media literacy and production: Use the videos, data-visualizations, maps and coastal soundscapes as a prompt to discuss new forms of visual storytelling, journalism or artistic expression. Use the Atlas and our workshop exercises to interpret, analyze and create maps and data visualizations. Help students understand how data and spatial technologies can be used to address complex problems.

Comparative learning: Use the wide range of stories and perspectives to explore the inter-connectedness of individuals, societies and the environment. For example, how do melting glaciers, nuclear disasters, oil spills, sand mining, or unregulated dumping on one shore affect communities on another shoreline? How do race, class, gender, age and location influence how we perceive and respond to environmental problems?
This project was developed with and for students, teachers and organizers from around the world invested in innovative forms of pedagogy, media-production and environmental literacy.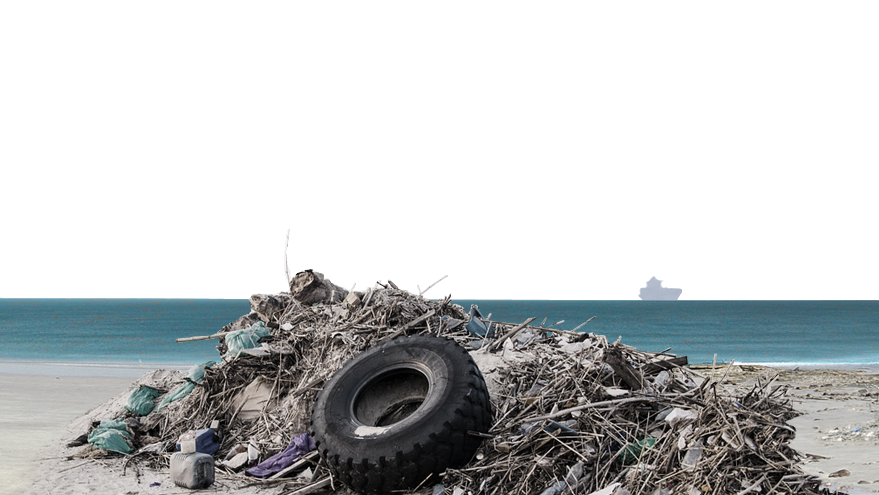 Credits
Writer, Producer and Director
Liz Miller
Story and Creative Development
Deborah VanSlet
Katerina Cizek
Alison Naturale
Interactive Design
Helios Design Lab
Mike Robbins, Creative Technologist
Alex, & Felix Wittholz, Creative Directors, Interactive
Dan Sundy, Coding and Development
Heather Grieve, Producer
Research and Script Consultation
Simone Lucas
Nicole Robicheau
Interactive Sound Design
Leticia Trandafir
Ocean recordings: Multi Electronique
Ondes Martinot: Owen Chapman, Suzanne Binet-Audet
Story Development Assistants
Jaelle D. Rivet, Ray Caplin, Hannah Deasy
VIDEO PRODUCTION
Principal Camera & Editing
Deborah VanSlet, Liz Miller
Consulting Editors
Etienne Gagnon
Doug Hollingsworth
Rebecca Lessard
Music Composition
Jacob Lessard
Sound Design & Mix
Kyle Stanfield
Translation
Jaelle D. Rivet
Ana Paula Castillo-Mendez
Wided Hakimi
Camilo Alvarez Pabon
PRODUCTION BY LOCATION
Sunderbans, India
Producers, Directors, Camera & Editors: Eva Brownstein, Liz Miller
Puducherry, India
Producer & Director: Nupur Basu
Camera: Alphonese VR
Editor: Reena Mohan
Production Assistant: Sania Farooqui
Camera Assistant and Location Scout: Sudheer P.C.
Translation: V. Uma Maheswari, Mohan Kumar
Norway
Director and Camera: Karen Winther
Editor: Sindre Hovden
Additional Editing: Rebecca Lessard, Liz Miller
Andaman Islands
Co-Directors: Liz Miller & Nupur Basu
Camera & Editor: Liz Miller
Additional Editing: Annick Maugile Flavien
New Zealand
Director: Liz Miller
Camera: Deborah VanSlet
Editors: Deborah VanSlet, Liz Miller
New Jersey
Producer: Allison Naturale
Director: Liz Miller
Camera: Deborah VanSlet
Editors: Deborah VanSlet, Liz Miller
Panama
Producers: Liz Miller, Evelio Lopez Morales
Co-Directors: Liz Miller, Wagibler Youth Group, Carti Sugdup
Camera and Editors: Deborah Vanslet, Liz Miller, Ana Paula Castillo-Mendez, Camilo Alvarez Pabon
Thanks: Catherine Potvin, Carlos Arenas, Javier Hurtado, Jorge Ventocillo
Chile
Producers: Fernando Garabito Campos & Katherine Garven
Director, Camera and Editor: Katherine Garven
Indonesia
Producer and Director: Alessandra Renzi
Camera: Alessandra Renzi, Satrio Bagaskoro, Yullian Ariesta, Deris Putra Frianto
Sound: Lucas Freeman
Editor: Liz Miller, Alessandra Renzi, Julian Ballestar
Subtitled: Alifa Rachmadia Putri
Thanks: Arsani Ahmad, Sahiq Alfi, Tomo Garden, Ariel Shepherd, Etienne Turpin
Vancouver
Producer: Nicole Robicheau
Directors: Liz Miller, Eva Brownstein
Camera: Liz Miller, Eva Brownstein, Matt Miles
Editors: Liz Miller, Deborah VanSlet, Eva Brownstein
Bangladesh
Co-Directors: Afroja Shoma, Liz Miller
Camera: Liz Miller
Editors: Rebecca Lessard, Liz Miller
Thanks: Scott Leckie
CURRICULUM & OUTREACH
Graphic Design
Antonia Hernandez
Emilie Trudeau
Curriculum Development
Simone Lucas, MJ Thompson, Michele Luchs, Adriana de Oliveira
Ines Lopez, Katherine Garvin, Eva Brownstein, Shirley Roburn, Trish Audette Longo, Rachel Jekanowski.
FUNDING AND PARTNERS
Insight Development Grant, Social Sciences and Humanities Research Council of Canada
Internal Seed Grant, Concordia University, Montreal, Canada
Aid to Research Related Grant, Concordia University, Montreal, Canada.
Human Impact Lab
Additional thanks to everyone who have helped us along the way!